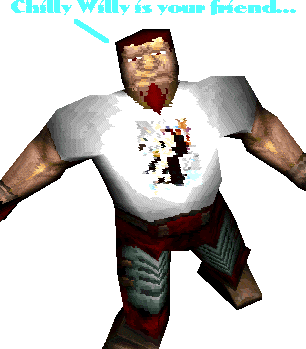 PERSONAL STUFF:
Real Name: Chris Cluff
DOB: 06/27/80
Hobbies: ?
Favorite Band/Musician: Smashing Pumpkins
Location: South Houston, Tx
Processor Speed: P133
Connection Speed: 28.8 kbps
Homepage: ?

QUAKE BIO:
Nickname: ChillyWilly
Rank: "Stooge"
Specialty: Trying...
Height: 6'
Weight: 182 lbs.
Favorite Weapon: ?
Personal Quote: "I'd like to say it was nice knowing you,
 but... I'd be lying."