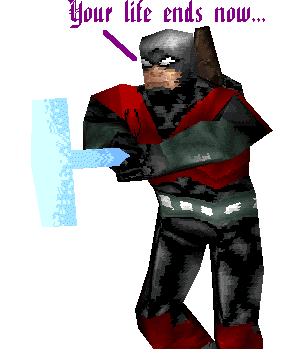 PERSONAL STUFF:
Real Name: Thomas Raulerson
DOB: 03/11/81
Hobbies: KNP, RPGs, Star Wars/Trek etc.
Favorite Band/Musician: Instrumental, orchestral
Location: South Houston, Tx
Processor Speed: PII 266
Connection Speed: 46 kbps
Homepage: ?

QUAKE BIO:
Nickname: DarkScythe
Rank: "Stooge"
Specialty: Bustin a cap in shamblers
Height: 6'
Weight: 220 lbs.
Favorite Weapon: Rocket Launcher
Personal Quote: "If my destiny leads to death,
 then so be it... but I'm taking everyone with me!!!"