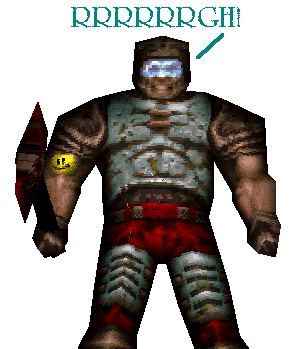 PERSONAL STUFF:
Real Name:  Matt Smith
DOB: 09/11/84
Hobbies: Quake, Megazeux, and KNP.
Favorite Band/Musician: "Weird Al" Yankovic
Location: Dayton, Tx
Processor Speed: P133
Connection Speed: 28.8 kbps
UIN: 1857798
Homepage: Scribbit's Impulse Page

QUAKE BIO:
Nickname: Scribbit
Rank: "Stooge"
Specialty: Gibbing people with rocket launchers in big,
 frenzied fights.
Height: 5'4"
Weight: 180 lbs.
Favorite Weapon: Grenade Launcher
Personal Quote: "ZIPPY!!!"