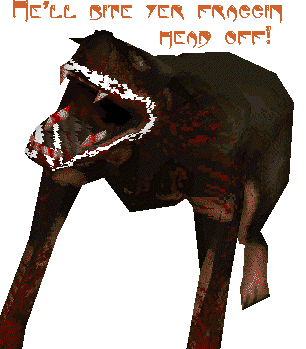 PERSONAL STUFF:
Real Name: Sparky
DOB: 08/27/97
Hobbies: Biting mailmen; Biting other dogs, cats,
 animals, anything; being our mascot
Favorite Band/Musician: Bloodhound Gang
Location: My mind
Processor Speed: Faster than you can imagine
Connection Speed: Ditto
UIN: None!  Dogs can't use computers, stupid!
Homepage: DITTO!!!

QUAKE BIO:
Nickname: The Rabid Dog
Rank: "Mascot"
Specialty: Biting things and being rabid
Height: 3'7"
Weight: 125 lbs.
Favorite Weapon: His teeth
Personal Quote: "RRRRRRRrrrrrrggghhhhh!!!"